As a community of crafters, we frequently gather to knit (or crochet or spin or sew or quilt) as a group.  Someone starts a project which appeals to many others in the group.  Or a shipment of beautiful yarn arrives, and someone finds the perfect pattern for it which everyone just has to make.  We consult each other on yarn choices and color combinations.  We share tips and tricks.  We admire finished objects and encourage those still in progress.
Share your progress in our monthly Share Your Projects for a Prize thread on Ravelry.  One of the great things about a KAL is seeing all of the variations.
Our list of current shop knit-a-longs (KALs) changes often, but there is a Ravelry thread and pattern bundle which has previous KALs as well.
Note: Some of the links on this page will prompt you to log into your Ravelry account.
---
A new year means new KALs, and what better way to keep warm this winter than by knitting a cozy shawl in chunky or worsted weight yarn?  These projects will keep you warm even as you knit them!
Hudson by Shannon Cook
Shades of Wicklow by Martina Patricia Munroe
Yarn choices for these two beauties: Ella Rae Superwash Merino Chunky, Juniper Moon Farm Stratus, and Ella Rae Cozy Alpaca Chunky.
---
If you want a wrap which is more than a traditional shawl, then Andrea Mowry's

Om Shawl

is sure to become a staple in your wardrobe, especially knit in the classic palette of Ella Rae worsted superwash.  Check out the pattern page for creative styling options.  (There's even a video!)
---
Knitting one of Isabell Kramer's patterns is a surefire way to make a favorite item which you can dress up or down, as the mood strikes you.  The

Paris Toujours

shawl is written for fingering or dk weight yarn.
Make a fun statement piece with speckle yarn from Zen Yarn Garden or Madelinetosh, pick your favorite shade of Sonder, or indulge in Zealana luxury.
---
A yarn as unique as Tennen from Noro needs a simple pattern to highlight the texture of the wool/silk/alpaca blend and subtle tonal striping of the colors. 

Chesterfield

by Julie Hoover is just such a pattern, with a classic raglan shape which works for men and women.
---
During the hectic holiday season, it's important to take a few minutes each day to relax, so we hosted several seasonal knit-a-longs.  The plan was to work just a few rows each day, and have a beautiful cowl, shawl, or pair of fingerless mitts before you know it.  We have had fun discussing yarn possibilities and picking out colors, but as so often happens, relaxing projects gave way to errands and gatherings and more pressing gift knitting.  Therefore, there is still time to start one of these projects and have plenty of company as you work.
Project Peace
, a fingering weight cowl with a meditative four-row repeat;
Laura Aylor's third holiday KAL

Just for You 3

, a worsted weight, buttoned cowl; a
nd an adventurous few started Heidi Alander's
Satakieli Advent MKAL
, a five-color fingering weight shawl.
---
While the holiday season is often hectic, it is also the season of Advent -- a time for reflection and contemplation.  Sandy created a KAL for the Winterberry Branch mitts.
The project has a seasonal look and at the same time can be broken down into a manageable amount of work each day. Knitting just 4 rows a day on these beautiful mitts will make the pair during the 28 days of Advent.
There are a number of options in the shop.  Sandy is making hers in Cocoon, which she loves for gloves and for colorwork.
---
The Cupido cowl has been a shop favorite for a while, but it is finding new life as a KAL using Noro Silk Garden.
The pattern is a simple, meditative knit, and the gorgeous striping yarn does all of the work.  Two skeins will make a shorter cowl, and three skeins will make a long loop which you can wrap twice.
---
The softly-plied Amitola Grande yarn from Louisa Harding is a natural choice for the Shingle Cowl by Kathleen Gill. 
The broad range of colors mean that you can choose a combination which is subtle and neutral, bright and bold, or dark and dramatic.
---
The beautiful Freyja (English, íslenska) cardigan is constructed in the traditional Icelandic Lopi style. We are using a wonderfully soft new yarn from Katia.
It is knit in the round (so no long purl rows) and then steeked! We've got steeking experts to guide you through that part of the process if you need a little coaching or encouragement.
---
Lightning Bugs by Laura Aylor is a crescent-shaped garter stitch shawl with occasional slipped stitch rows and "bug" rows. Newer knitters can tackle this project because Laura Aylor writes wonderfully clear patterns, explaining each step and stitch. The "bugs" give you a chance to use a fun color you wouldn't ordinarily choose.
---
True Friend by Veera Välimäki - The name of this sweater pretty much says it all for us. What could be better than knitting a True Friend with your knitting friends?
---
Waiting For Rain by Softsweater knits has been one of our most popular KALs through the summer and will keep going strong through the fall as new yarns arrive in beautiful autumnal colors.
---
The Easy Folded Poncho by Churchmouse Yarns and Teas is a simple yet sophisticated poncho perfect for Fall.  We have been knitting it with three different Rowan yarns: Felted Tweed, Softyak, and Pure Wool Superwash DK.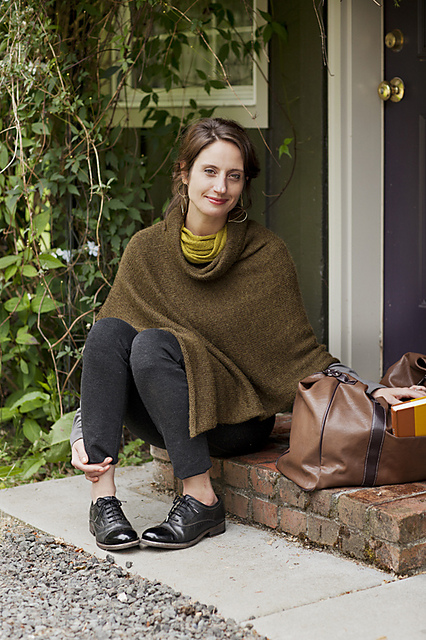 ---
Chevron Baby Blanket by Purl Soho knits up quickly in worsted weight superwash yarn.  We have had lots of fun picking out different color combinations.
---
Catkin by Carina Spencer is an example of a grassroots knitalong.  A community member brought in her finished shawl, and Catkin fever struck.